PU FLAT BELTS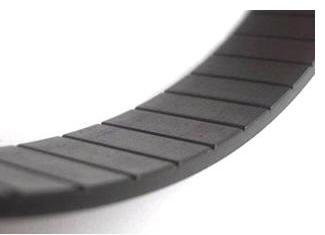 The flat, coated-steel belt eliminates the metal-to-metal effect of conventional systems. Coupled with a smooth-surface crowned machine sheave, the result is exceptionally quiet operation and superior ride comfort. Furthermore, the flexible flat belt enables a more compact, energy-efficient machine, which can be contained in the hoist way. This reduces building and system operating costs, and frees up valuable space.
Long-lasting flat belts, smooth, crowned sheaves and minimal moving parts in the gearless machine dramatically reduce wear and increase durability and efficiency. It continually monitors the status of the belts' steel cords. Unlike visual inspections of conventional steel ropes, the Pulse system automatically detects and reports belt faults to maintenance personnel for rapid response, providing owners with greater peace of mind.
Protecting the environment
Neither the belt nor the gearless machine, with its permanently sealed bearings, requires any lubrication so the it is cleaner for the environment. The highly efficient gearless machine with its permanent-magnet synchronous motor reduces power consumption by as much as 50 percent over conventional geared machines and 15 percent over other machines with permanent-magnet motors of axial construction.
P1 P2 P3 P4 types available